At executing test using djUnit, djUnit Coverage Report view is shown automatically.


is clickable area.

If view is closed,click menu "Window"-"Show View"-"Other",and can open the view.


"summary" -> show all classes.
packagename -> show selected package only.
file -> jump to the java source editor.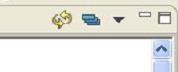 : reload coverage data and redraw report.
: delete coverage data("jcoverage.ser").
: select project.
: export to HTML format. Version 0.6.0 [2004/11/25]New!!
The coverage results is shown in "Java source editor" and "Problems view"(or task list view).